12 LGBTQ-owned vegan food and drink brands to support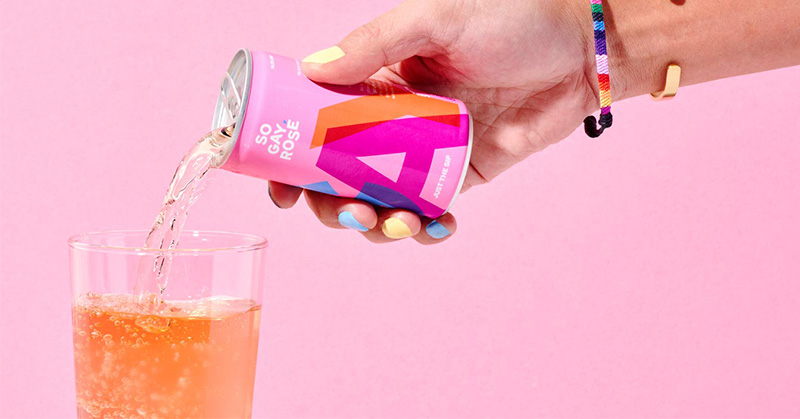 Besides attending rallies and donating to gay-owned organizations, another great way to be an ally for the LGBTQ+ community is through your shopping habits! So we've created a list of 12 LGBTQ-owned vegan businesses to support this Pride month and beyond.
Want to taste homemade cookies effortlessly? Buy a few boxes of Maxine's Heavenly Naturally Sweet Vegan Cookies! Whether you are crispy or soft, this brand offers both types of cookies. One of the reasons we love Maxine's Heavenly is that all of the executives and 30% of the staff are from the LGBTQ community. The CEO also oversees a handful of other LGBTQ-owned businesses.
These bags of coffee are ethically sourced, organically grown and roasted to perfection! From first-time coffee drinkers to veterans with a sophisticated palette, there's a blend for everyone. This month, Nostalgia Coffee Roasters is donating 10% of sales of its Memory Lane and Glory Brew bags to the SD LGBTQ Center.
This LGBTQ-owned business has the sauce – for pasta, that is! Whether you fancy a classic tomato sauce, a vegan vodka sauce or a spicy Calabrian, City Saucery has it all. Other products include condiments, pickled vegetables, pasta, spaghetti fritters, etc.
Did someone say vegan rosé? We were doing! With an adorable recyclable packaging and a light crunchy taste, So Gay Rosé is our summer must-have! Each box contains 100 calories, 0g of sugar and an immeasurable amount of good vibes.
This summer, ditch the hot coffee and join the Cold Brew team! We love Explorer Cold Brew's Concentrated Cold Brew because it's organic and fair trade. Customers can choose from four different caffeine strength levels: zero, low, regular, and extra. In honor of Pride Month, the Queer-owned brand is donating $1 from every order this month to The Trevor Project.
Improve your pasta with NONA Vegan! Founder Kailey Gilchrist has veganized her late Italian mother's recipes to share with the world. The sauces are packed with nutrients, delicious in taste and so creamy. So what do you try first: Alfredo, Bolognese, Carbonara, Cheesy or Rosée?
Vegan Sunday Supper's Vegan Heat-and-Eat Lasagna makes family dinners simple! Chef Celestino Drago uses organic ingredients sourced from local California farms to make this hearty, plant-based lasagna. So can you tell why we're obsessed?
Grab a few packets of vegan, gluten-free and soy-free hot dogs from Yeah Dawg for your next barbecue! These plant-based links cook, taste and smell like traditional hot dogs. And the best part is that there are no weird ingredients. You'll also be supporting an LGBTQ-owned business with your purchase!
Channel your inner barista with Equator Coffees! The LGBTQ-owned coffee brand offers a variety of beans and grounds to try. We recommend starting with Mary Sue and Susan's new Las Rosas Colombia cafe, as $1 from each bag is donated to the Los Angeles LGBT Center and Concerning Her.
It's always good to have something sweet on hand! Lagusta's Luscious artisanal vegan chocolates reign supreme. So scroll through their variety of chocolate bars and candy flavors, and get ready to treat yourself! We encourage you to try the S'mores kit! Because who doesn't love s'mores?
Load up your vegan charcuterie board with RIND! This LGBTQ-owned business makes exquisite aged vegan cheese wheels and spreads. Horseradish, Blue, Paprika, Cambleu, Herbes de Provence, there are so many flavors to choose from!
Dress up your plate of spaghetti with Sauce and Destroy's classic marinara sauce! Each jar is made from simple 100% vegan and gluten-free ingredients. And there are no added sugars or preservatives, just tomatoes and spices.