2021 PETA Vegan Food Awards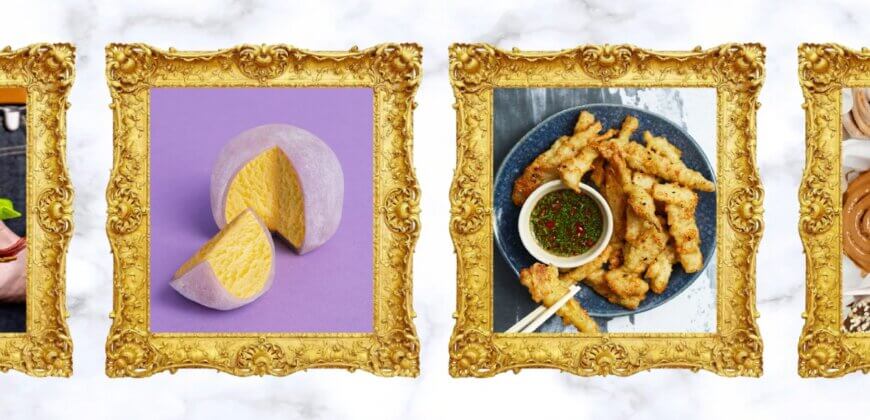 BEST VEGAN MEAT
Phew! – they did it again. A favorite of meat eaters and vegans alike, this doner meat is packed with protein and flavor – just what you need to whip up your dream kebab.
BEST VEGAN BURGER
This vegan burger from McDonald's will introduce vegan food to a new audience and make it easier than ever for vegans on the go. Our opinion? They did it ! Complete with vegan mayonnaise and the chain's secret vegan burger sauce, the McPlant is the burger everyone's been waiting for. Would you like fries with that? Go ahead, they are vegan.
BEST VEGAN CHICKEN
VFC is on a mission to save the chickens – one bite at a time – with its delicious vegan fried chicken fillets and bites. Available in spicy and quirky flavors with a crispy coating of deep-fried southern cornflakes, this protein-packed vegan meat is available from Tesco or VFC right on your doorstep.
BEST VEGAN CHEESE
Organic macadamia and cashew nuts are fermented to impart a clean, distinctive umami flavor to this sensational, soft, creamy cheese. It is marinated in a mixture of extra virgin olive oil and cold-pressed rapeseed oil infused with black peppercorns, garlic and thyme. Enjoy it on a cheese platter, in a sandwich or straight out of the jar at midnight, we won't judge.
BEST VEGAN SUSHI
Sushi is the crown jewel of 123V's awesome all-vegan. Chef Alexis Gauthier marinates the 123V with a magical effect, while leaving the fish in the sea where they belong. The future is vegan and great chefs like Gauthier are leading the way.
BEST VEGAN FISH
Expertly crafted by The Brook's vegan chefs and delivered to your door ready to heat and eat, these crispy fishless bites come with zesty tartar or tangy green chili sauce to bring that fishy taste of the sea to your plate. The dish is available as part of a number of menus in The Brook range, including its sensational Sea-lover's Sharing Menu – Seafood in a new way.
BEST VEGAN BACON
Finnebrogue Artisan naked without the snout! Plant-Based Bacon Slices
Produced in the company's own vegan facility, Naked Without the Oink! Plant-Based Bacon Slices prove that no pork meat is needed to make crispy, delicious bacon. They are available in supermarkets or in the delicious Vegan Bac'n Bap from Costa Coffee!
BEST VEGAN HOT DOG
Plant-based menu Meatless hot dogs
A great freezer staple from Aldi when you want a quick bite. Simmer for 8 minutes, roll them up with all the fixings, and you're good to go! Also great when barbecued or chopped into beans, these dogs have all the versatility without any cruelty.
BEST VEGAN SAUSAGE
Filled with veggies and flavored with parsley and sage, these herb and veggie breakfast bangers are good any time of the day. They are part of HECK's expanding vegan offerings.
BEST VEGAN PIZZA
Chicago Town Tomato Stuffed Crust Takeaway Sticky BBQ Jackfruit
This pizza has it all – loaded with gooey vegan mozzarella, sticky BBQ jackfruit, red and green peppers, and onions. The crust is even stuffed to make every bite count in this perfect freezer-filler.
BEST VEGAN PIE
These mini pies are super tasty, made with red bell pepper, SunBlush tomato, carrot and green lentils – all wrapped in a vegan pastry crust. Equally at home in your lunch box or as a couch for guests, you can warm them up and eat them or enjoy them straight out of the package. They are winners anyway.
BEST VEGAN SANDWICH
Greggs Vegan Ham and CheeZe Baguette
Lunch on the go? Sorted. Quorn's vegan ham is topped with ripe cheddar-style slices in this crispy baguette that's so much more than the sum of its parts. Ask for it reheated to enjoy the sweetness of the cheese that doesn't hurt the cowZ. Ah Greggs, you had us at the vegan sausage roll.
BEST VEGAN MILK
MOMA Original Oatmeal Beverage
Smooth, creamy, and cruelty-free, MOMA Oat Milk is the perfect choice for adding to cereal and hot drinks, baking vegan muffins, and creating perfect instants in your smoothie bowl. Or just drink it – yum!
BEST VEGAN DESSERT
Vegan Mochi Ice Cream with Passion Fruit and Mango Little Moons
Scoops of fruity and creamy cashew milk ice cream are wrapped in soft and sweet purple mochi dough to make these dinnertime must-haves. They are adorable and delicious and only 78 calories per scoop (but who's counting?).
BEST VEGAN ICE CREAM
We come Pastry that you need that ice cream in your life – and in your freezer – all the time. For dessert, blended into smoothies or in a jar with a spoon, Wicked Kitchen has created the perfect combo of cookies and ice cream in one jar. Head to Tesco to stock up before your next movie night.
BEST VEGAN COOKIE
Just when you think vegan cookies couldn't get any better, Subway throws its double chocolate vegan cookies on the baking sheet and we're impressed! Moist, chocolatey and full of chunks – 10 out of 10!
BEST VEGAN CHOCOLATE
Buttermilk Peanut Butter Crunch
Part of Buttermilk's line of dreamy vegan chocolates, these little bites of joy feature a creamy peanut butter filling wrapped in smooth chocolate with a little extra crunch. A perfect combination.
THE BEST VEGAN DONUTS
we whisper and screaming about these vegan-tastic creations! The dough is soft and light, and the toppings add just the right amount of sweet indulgence. A variety of creative flavors are available for delivery right to your door – and your mouth.
BEST VEGAN RANGE
Investing in a better future by encouraging customers to eat more vegan foods, Co-op has ensured that the prices of its vegan GRO range match those of its meat and dairy products. With everything from coleslaw, sausages, ready meals and oat milk sandwiches, to salted caramel ice cream and cupcakes, we hope this vegan lineup continues to GRO-ing.
BEST VEGAN SQUID
The innovators who brought us watermelon "tuna" have done it again, and this dish is so good we've invented a new category for it. Moist and crunchy, this more indulgent starter is made with lightly breaded king oyster mushrooms and served with a sticky dip that has a bit of a kick. Leave the squid in the sea and eat soft-bodied mushrooms instead.
BEST VEGAN MAC
FacePlant Foods Mac 'n' Cheese Sandwich with Bacon
That's right – a bacon and mac and cheese sandwich and it's 100% vegan and delicious. Comfort food at its best. All vegan cheeses and meats from FacePlant Foods in Edinburgh are handcrafted in small batches, and this exceptional sandwich is no exception.
BEST VEGAN MENU
This year's winning menu is located at Bannatyne Health Club & Spa Bury St Edmunds. Beyond treadmills and bike lessons, a vegan restaurant offers jaw-dropping dishes like porcini arancini with miso pesto, celeriac puree, chicory and house-made cashew cheese . Champagne afternoon tea or vegan spa day, anyone?
BEST VEGAN COOKBOOK
Omari McQueen's Best Bites Cookbook
Cook with the UK's youngest award-winning vegan chef and entrepreneur, Omari McQueen. Her delicious book features easy-to-make light bites, tasty lunches, delicious dinners, and delicious desserts like her BBQ Jackfruit Wrap, Chickpea Curry, and Strawberry Coconut Cheesecake.
LAUNCH OF THE YEAR
Do you know what we call a Vegan Royale at PETA? The winner. These crispy coated vegan chicken burgers are topped with iceberg lettuce, creamy vegan mayonnaise and a toasted sesame seed bun. You probably can't tell the difference, but chickens can.