A US Coast Guard Training Center Just Won a Vegan Food Award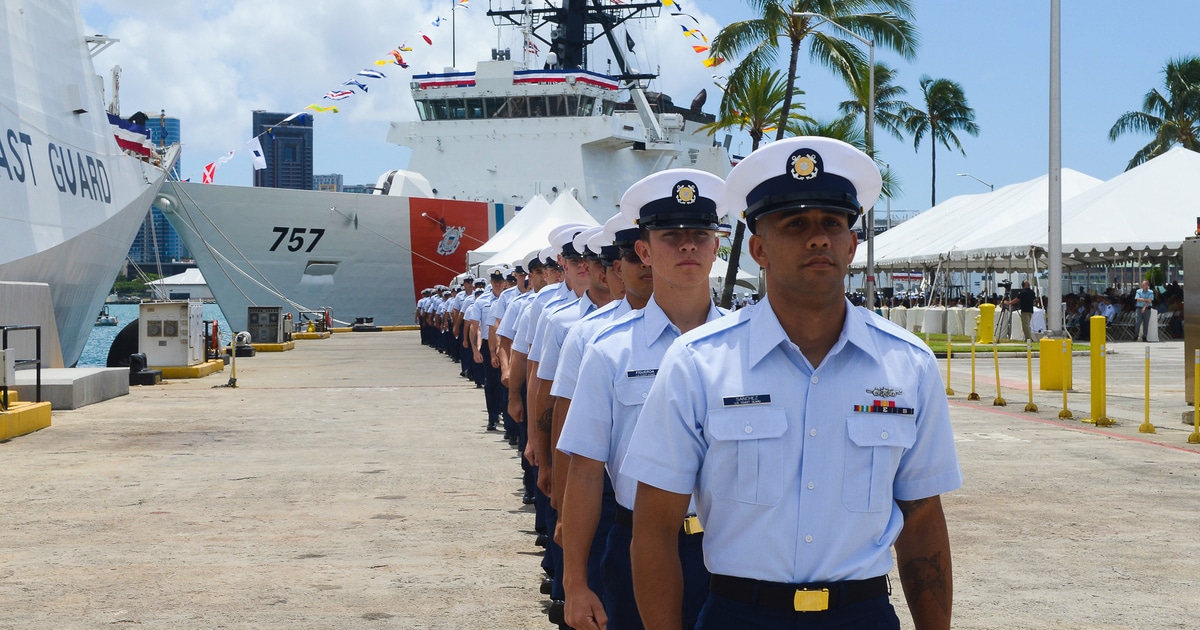 [ad_1]
The United States Coast Guard Yorktown Training Center just won a "Proggy" (for "progress") award for serving elaborate vegan meals in its main dining hall in Yorktown, Virginia. The award was presented to the military training school by People for the Ethical Treatment of Animals (PETA) to honor the progress it has made in implementing animal-free meals.
Meals at the Coast Guard Training Center change daily and feature creative options such as lemon and turmeric pasta with sundried tomatoes and pistachios, creamy carrot and ginger soup and bowls of bulgogi with jackfruit topped with fresh herbs and sesame seeds.
The idea for the vegan meals program came from Petty Officer 2nd Class Ian Swoveland, a culinary specialist and Culinary Institute of Virginia graduate who joined the Yorktown facility in 2017. The vegan program was implemented at the start of the COVID-19 pandemic when students were unable to leave base for meals. As such, the program helped provide plant-based options to approximately 10% of soldiers who identified as vegan at the time.
PETA
The idea was to give student cooks a license to engage in meal development – ​​under the professional supervision of Swoveland – and this resulted in constantly evolving creative menu options. Today, vegan meals have become so popular that many non-vegan diners regularly attend Yorktown's main dining program, which serves 400 to 500 people daily.
PETA President Ingrid Newkirk praised the training center for helping students make choices that save 200 animals each year while reducing their carbon footprint by choosing to consume environmentally friendly meals. "From passion fruit panna cotta to Beyond Bolognese, students at the U.S. Coast Guard Training Center Yorktown feast on high-quality meals that are good for animals, the Earth and their arteries," Newkirk said in a statement. . "As the demand for vegan fare skyrockets, PETA looks forward to seeing every military base progress toward offering healthy, compassionate, and environmentally friendly foods."
Yorktown is one of the largest Coast Guard training centers in the nation, and PETA hopes this award will help others turn to plant-based meals.
Vegan options to grow in school canteens
The Yorktown Training Center isn't the only educational institution embracing plant-based meals. On the Connecticut coast, the Ivy League school Yale just revamped its menus in all 14 dining halls thanks to Zero Egg, a company looking to revolutionize breakfast with vegan eggs made from its protein base. exclusive plants. Now, Yale students have access to plant-based eggs five to seven times a week that are featured in scrambles, breakfast sandwiches made with Zero Egg patties and Beyond Meat sausage, and as a base. for the new Vegan Herbed Frittata.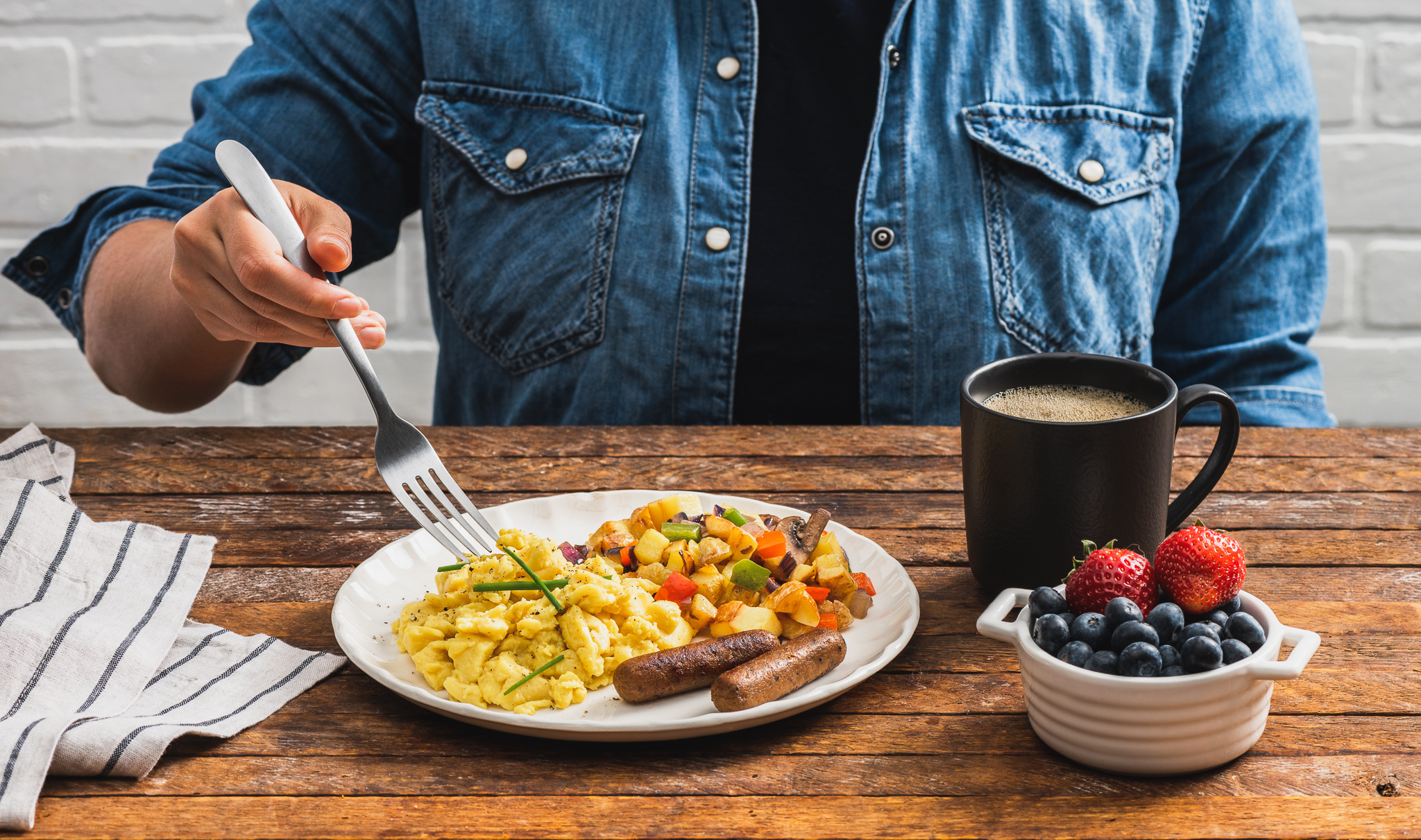 Zero Egg
In addition to Yale, Zero Egg is also making its way to other college campuses across New England, including the Colleges of the Fenway, Boston University, Connecticut College, and Mount Holyoke College, along with others coming in the fall semester. Similar to the Yorktown Training Center, students who consume these plant-based eggs are not necessarily vegan, but rather seek out options that are better for their health, their animals, and the environment.
"Student dining represents the next 10 to 15 years of restaurant patronage, so it was a natural conclusion for us to start on New England campuses," Graeham Henderson, Zero Egg Sales Manager for the region, to VegNews. "Because Zero Egg has the same taste, texture and versatility as a regular egg, it's not just appealing to vegan students. The majority of students – over 60% – who order our plant-based eggs are not vegan and would otherwise consume regular eggs. »
Sodexo will increase plant-based meals to 42%
From military training bases to universities, educational institutions are looking to add more plant-based meals to better serve their students and reduce their carbon footprint. These goals are shared and supported by restaurant giant Sodexo, which announced last month that it would increase its plant-based meal options to 42% by 2025.
Sodexo
Sodexo buys $20 million worth of merchandise a year and serves 75 million customers daily in corporate, university and healthcare cafeterias. In its 2020 fiscal year, Sodexo determined that 70% of its carbon footprint came from its purchased food of animal origin. The catering company is working with its longtime partner Humane Society of the United States (HSUS) to implement the change and predicts that switching to plant-based meals will reduce its carbon emissions by 34% by 2025.
"Any sustainability plan intended to create real change – not just greenwashing lingo – will focus on moving from a meat-heavy menu to a menu focused on plant-based starters," Karla Dumas , RDN, director of foodservice innovation at HSUS, said in a statement.
To learn more about vegan food in schools and universities, read:
New York Public Schools Now Serve Vegan Meals to 930,000 Students Every Friday
First certified black chef adds vegan meat to his culinary school
Portugal's oldest university bans beef to tackle climate crisis
Get FREE vegan recipes delivered to your inbox by joining our award-winning VegNews recipe club.
Register
Get FREE vegan recipes delivered to your inbox by joining our award-winning VegNews recipe club.
Register
[ad_2]
Source link