Brothers quit corporate life to start vegan food truck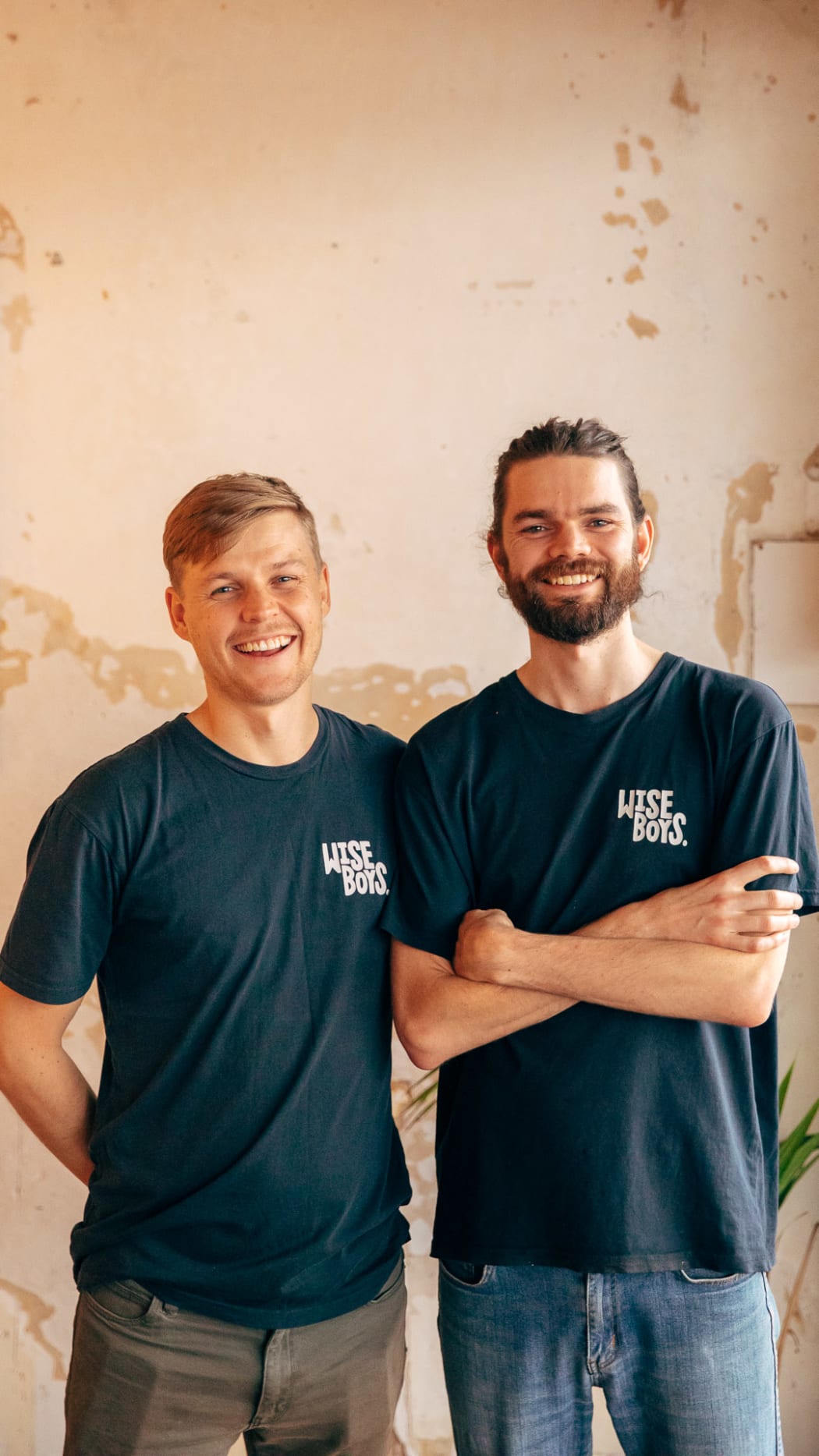 Brothers Tim and Luke Burrows left the corporate world in 2016 to start a vegan food truck, wise.
From a food truck built from recycled materials, they opened two burger restaurants in Auckland and developed a line of vegan sauces at retail.
Tim, an engineer, and Luke, a lawyer, say they were on the hunt for tasty vegan meals, having turned away from meat and dairy after watching the documentary Cowspiracy.
"It was kind of the first time I really considered the effects of factory farming," Luke tells Kathryn Ryan.
"We were largely disappointed with what there was to eat, you know, it was kind of salads and smoothie bowls, that was five or six years ago.
"So we thought, well, why don't we try and do something a little more forgiving, I guess, or a little meatier, for lack of a better word, and so that's what we did. ."
Neither had any experience in the hospitality industry, but they saw burgers as an achievable challenge, Tim says.
"We just put my limited building and engineering skills to the test and built a food truck ourselves, then we jumped into it and it kind of took off."
But after spending all their savings on the truck, made mostly from recycled parts, they had to resort to cheap kitchen equipment, he says.
"I had saved a small amount of money so I had about $12,000, Luke had about $2,000, and we used that, poured it into building our food truck.
"We just got this like a real cheap little $300 grill and $300 deep fryer, and it was so small and couldn't really keep up with the good pace of real hospitality and busy days and loaded."
With help from the Good Food Boost program, a crowdfunding campaign and a loan from the bank, they were able to get the truck back in shape after six months, he says.
"Nevertheless, when we opened our first store in Gray Lynn, we built a lot of it ourselves. We just saved a lot of money and we borrowed some money from dad and then we built it. built it ourselves because we just didn't have the money.
Their labor of love was a matter of trial and error as they tried to create a vegan patty that people could actually enjoy, he says.
"You have to replace the eggs and so we were using like flaxseed to help bind the patties together and then obviously we want to make them gluten free so … often people use breadcrumbs to help the burger patties bind together so we were trying different gluten free flours and such.
They've gone from just two burgers and patties — a Mexican style bean and one beet kiwi — to now 10 different varieties.
"They've gone from being pretty basic like the beet and black bean burger to… different proteins incorporated – soy protein and pea protein and sort of actual protein isolates now," says Luke.
"And we sort of combine them with lentils and mushrooms and different things.
"So we kind of have what's actually a first in New Zealand I think is this vegan smash patty…which crisps really well and then you smash it finely on the grill and you can sort to melt some vegan cheese on it and it has the juices and the bite of a meat burger and it kind of has that greasy and kind of greasy feeling in your mouth.
The response has been so good, they say, with their award-winning products and popular demand boosted by the launch of a range of sauces.
"People [are] saying, yeah, it's kind of the best vegan aioli and mayonnaise, but also some interesting flavor variations and interesting sauces that are hard to find anywhere," says Luke.
"So a lot of what we've done has been in response to demand, I guess."
There's no doubt that having a business in downtown Auckland's commercial bay has taken its toll, says Luke, but their core values ​​help them through the hardships.
"Over the last couple of years as well we've had personal tragedy and we've had health issues and I think we're probably both pretty existential at the best of times and so we've constantly had to think, why do we us that and if it was just a business, you know, if it was just a money-making thing, we definitely wouldn't be doing it anymore.
"But it's more about that goal and what Tim was alluding to earlier, like we feel like it's a good company, we work with some amazing people.
"We have a very diverse team of staff, including neurologically diverse, and I think we feel really engaged in what we're trying to achieve on a very holistic level, you know, the sustainability angle, the vegan, but also kind of creating a workplace where people want to be and feel valued.