Caribou Coffee launches its first vegan food offer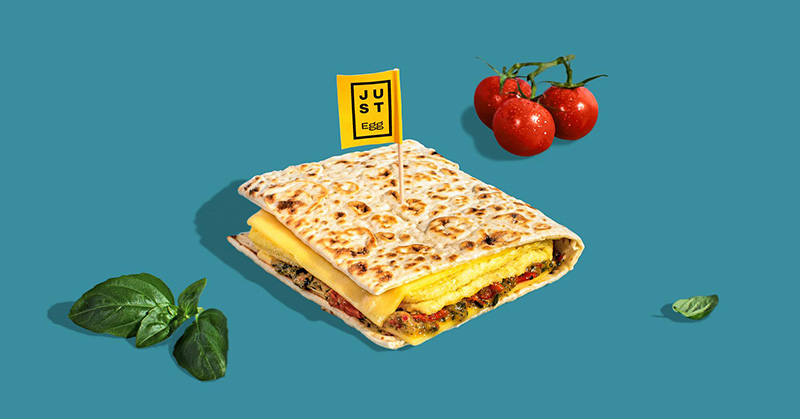 [ad_1]
Are you looking for a quick and convenient vegan breakfast on the go? You're lucky! Popular coffeehouse chain Caribou Coffee has just launched its first nationwide vegan food offering. Stop by your nearest location to try JUST Roasted Tomato and Pesto Flatbread.
New Caribou Coffee JUST Roasted Tomato & Pesto Flatbread
Caribou Coffee's new JUST Egg Roasted Tomato and Pesto Flatbread features a JUST folded egg, a slice of Violife smoked provolone cheese, roasted tomatoes and vegan pesto on a warm folded flatbread. Starting today, the vegan sandwich will be available at all Caribou Coffee locations nationwide for a limited time. With nearly 400 stores, the rollout makes Caribou Coffee the largest coffeehouse chain to carry JUST Egg's plant-based product.
"We are always looking for new and innovative choices to meet the needs of our customers. Caribou's food menu includes gluten-free and vegetarian options, and with increased demand in the market for plant-based options, we knew we wanted to provide a great tasting option for our customers. Finally having a delicious and versatile vegan option on our menu shows our commitment to providing quality products that are not only better for your health, but also for the planet. This sandwich is a delicious option for all guests, whether or not they follow a plant-based diet," said Matt Reiter, vice president of merchandising and product at Caribou Coffee.
Mainstream coffee chains with vegan food products
With this new launch, Caribou Coffee joins the ranks of mainstream coffee chains offering vegan food products. Peet's Coffee & Tea serves a variety of vegan baked goods and two vegan breakfast sandwiches: the plant-based sandwich and the Mediterranean flatbread. San Francisco-based Philz Coffee offers an all-vegan Philz Plant Powered sandwich, a VegOut favorite. Last but not least, Gregorys Coffee on the East Coast goes out of the park with their vegan breakfast burrito and croissant sandwich.
For more information on Caribou Coffee's new JUST Roasted Tomato & Pesto Flatbread, visit CaribouCoffee.com.
[ad_2]
Source link