New vegan food this "vegan" 2022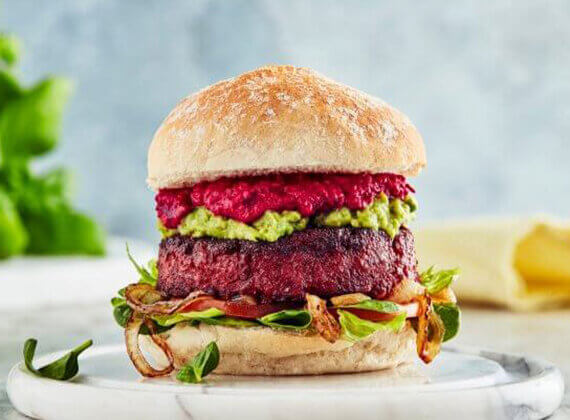 Every year more and more vegan food launches are exciting, and this vegan just might be the biggest one yet. From McDonald's Mighty McPlant Burger to Lindt's Creamy Oat Milk Chocolate Bars, you're sure to find a delicious animal-free version of all your favorite foods. There's never been a better (or tastier) time to try vegan food than right now – so check out some of the most exciting food launches of 2022 so far, and start your vegan journey today.
Domino's

Domino's has added another classic flavor to its vegan menu: the new Vegan PepperoNAY features plant-based meat-based pepperoni and melt-in-the-mouth vegan cheese based on the classic Domino's. Don't forget the irresistible vegan herb garlic dip.

Zizzi

Zizzi's wonderful new vegan rainbow lasagna features six layers of pasta and lots of delicious veggies, including butternut squash, beetroot, red onion and spinach, in a pomodoro sauce, topped with pesto and breadcrumbs. Plus there's the decadent new Zillionaire's Slice for dessert – a chocolate chip cookie base topped with layers of salted caramel and chocolate coconut ganache.

Mcdonalds

Previously only in select restaurants, the McPlant is finally available nationwide! It tastes the same as you remember it, but without harming the animals, right down to the secret recipe vegan burger sauce.

Burger King

New on the menu in January, vegan chicken nuggets are perfect for dipping. Pair them with PETA's award-winning Vegan Royale and French fries for a meal fit for a king.

wagamama

Wagamama's latest innovation is bringing vegan fish and chips to the main street. Tempura F-ish + Bang Bang Yaki-imo is a Japanese-inspired take on the traditional British dish, featuring 'fish' coated in tempura and sweet potato chips coated in firecracker sauce, served with edamame beans. Mint.

Pizza Hut

Some like it hot, and that's where Pizza Hut's new Vegan Flamin 'Buffalo Pizza comes in: vegan chicken marinated in Frank's RedHot sauce on the classic Pizza Hut base. And if you can't handle the spices, Pizza Hut has an extensive vegan menu.

Nando's

Joining Nando's popular vegan chicken option, the Great Imposter, is his new Spiced Chickpea Burger, a chickpea and spinach patty loaded with hummus, spinach and red pepper chutney, all served in a fluffy bun. Another novelty is its vegan rainbow bowl, full of flavors and colorful vegetables.

KFC

KFC's award-winning, original recipe vegan burger is now permanently available at over 950 of its restaurants in the UK and Ireland. And to celebrate the launch, KFC is offering the burger at 50% off Mondays in January and February, when ordered through Uber Eats.

Bella Italy

Bella Italia has teamed up with vegan egg experts OGGS to launch two new dishes: a plant-based CarbOGGnara, made with Scrambled OGGS, for a main course and Hot ChOGGolate Pudding for a gourmet dessert – available from January 3. How EGGciting!

Krispy kreme

Krispy Kreme is launching three new vegan donuts in January! Choose from Fudge Brownie Bliss, Apple Custard Crumble, and Caramel Choc Delight. These treats will be available to order online, along with her Original Glazed ring vegan donuts, and at Krispy Kreme stores.

Meatless Farm

From protein-rich burgers to tender mince, the Meatless Farm range gives you all the meat without any cruelty to animals. Now he's added a plant-based chicken breast that can be baked, pan, or broiled, making it easy to incorporate into your favorite dishes.

Metro

Joining their sensational vegan cookie and meatless meatballs that vegan, Subway has launched TLC Tikka (Tastes. Like. Chicken.), Which is available in a sub, salad or wrap – and tastes all the way. tikka without harming a single chicken. Subway is also testing the new plant-based TLS (Tastes. Like. Steak.) At 350 outlets across southern England through February 15.

Costa coffee

Costa Coffee's new Vegan Macaroni Cheeze features a rich vegan cheese sauce and fresh spinach, topped with parsley crumbs. Make sure you leave room for the delicious new BOSH! Slice of chocolate and pecan nuts.

Lindt

The latest chocolate from this world famous chocolatier is rich, creamy, and completely vegan. Available in Smooth and Hazelnut flavors, Lindt's vegan chocolate uses oat milk and marzipan to create a treat chocolate addicts will fall in love with.

JD Wetherspoon

The Fiesta Burger is the latest addition to JD Wetherspoon's stacked vegan offering. The new burger features a Beyond Meat patty filled with salsa, guacamole, peppers, zucchini and onions and served on a side of onion rings and fries.

Babybel

Finally! Just in time for Veganuary, Babybel launched a mini vegan cheese wheel. Like the dairy version, it's wrapped in wax, but no cow has had to suffer for this cheesy snack. Available at Sainsbury's.

Iceland

Iceland is offering discounts of up to 50% on several of its most popular vegan products to celebrate veganism. Offers include half-price Fry's vegan hot dogs and Linda McCartney sausages, as well as discounted vegan Chicago Town pizzas and packs of Greggs Vegan Sausage Rolls.

Starbucks

Starting January 5, Starbucks is offering a Tu'NAH vegan sandwich in collaboration with The Vegetarian Butcher. Along with its very first vegan fish option, three vegan baked goods are featured: a pecan and caramel brownie, a frosted carrot cake, and a luscious chocolate and caramel muffin. And there's more good news – Starbucks will no longer charge a supplement for plant-based milk as part of its efforts to reduce its impact on the planet.
Take our January vegan challenge
If all of these exciting new options make you think about going vegan, take our vegan challenge. We'll send you meal plans, recipes, and tips for eating a balanced diet, choosing cruelty-free vegan clothing and cosmetics, and showing compassion to animals in other areas of your life.