'No one has extra inventory': Processor stung by American Seafoods backlog can't fulfill USDA pollock contracts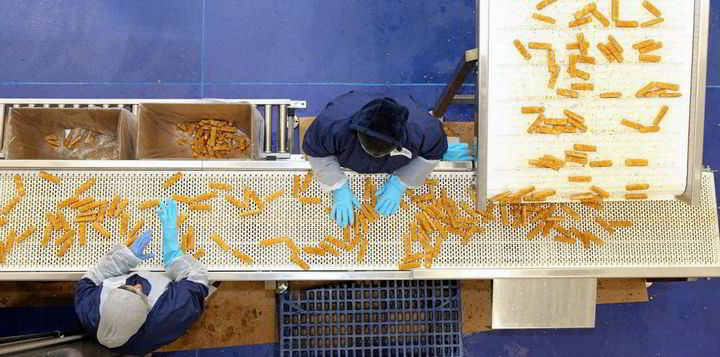 [ad_1]
A Massachusetts-based processor is unable to meet major requests from the United States Department of Agriculture (USDA) for Alaska pollock to be used in federal school lunches and other assistance programs in Due to an ongoing Customs and Border Protection (CBP) dispute with supplier American Seafoods, the top executive said IntraFish.
"The biggest contract we have is with the USDA Emergency Food Program," said Channel Fish President Thomas Zaffiro.
"This is the most impacted contract right now. We have notified the USDA that we can no longer ship. We cannot produce more product than we have already produced."
Since the start of this year, the USDA has awarded the company nearly $6.4 million (5.4 million euros) to distribute approximately 2.6 million pounds of product to federal aid programs across the United States, according to the agency's public records of deals.
Zaffiro said the agency needs the pollock by the end of this year, making the stakes all the higher as a lawsuit that could potentially free more remains in limbo in district court. American in Alaska.
CBP says American Seafoods, through its use of the so-called Bayside program, took its frozen fish a pro forma short trip down a Canadian railroad to nowhere, then trucked it to the cross the US border to take advantage of an exemption in the United States. Jones Law.
The article continues below the ad
Last month, CBP imposed $350 million (297 million euros) in fines related to a dispute with Alaska pollock producers and shipping companies, alleging violations of the Jones Act.
This action has crippled the American pollock trade during a peak season with cold chain warehouses overflowing with fish that owners are afraid to move.
Lawyers for the American Seafoods subsidiaries involved have since asked the judge for a preliminary injunction to prevent the company from incurring further fines. Arguments in the case were made on September 17, but the outcome has yet to be decided.
Zaffiro testified in court earlier this month that his company only had 30 days of pollock blocks and would be forced to close its plant if it did not receive additional supplies later. He said IntraFish On Wednesday, the circumstances remain largely the same.
"We are currently looking for other productions to fill while there is a void," he said. "We've taken on more fresh salmon business. We're doing everything we can to use species other than Alaska pollock."
Zaffiro added that finding a new supplier of Alaska pollock fillets was difficult.
"In normal years, except when there's coronavirus, that would be possible, but the market was tight on that," he said. "No one has extra inventory to ship."
Already a difficult year
A series of coronavirus outbreaks during pollock season A kicked off a tough year for U.S. processors.
Another major issue facing the industry as it navigates the "B" season of Alaska pollock is not having the right size fish to produce fillets for the most important customers.
Pinbone-out (PBO) net production was around 26% lower until 9/11 compared to the 2020 B season during the same period. Production of deep-skinned fillets, while higher than last year at the start of July, is now 12% below last year's levels.
He added that another challenge is that the product must be made locally for the USDA, which means it cannot be sourced from other major global suppliers such as Russia and China.
"Until American Seafoods is able to figure out how to ship the product, we're kind of in a waiting mode. We're waiting hoping the decision is in American's favour," he said.
[ad_2]
Source link