Pioneer Seafoods Attracts Customers to the Port of Redwood City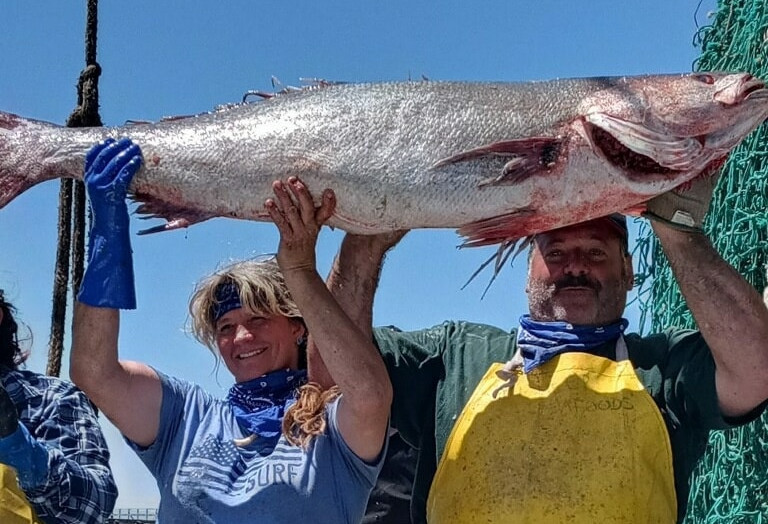 The popular Pioneer Seafoods prepares long lines at the Port of Redwood City.
Previously operating out of San Francisco Fisherman's Wharf, the company that prides itself on harvesting high-quality seafood in a sustainable manner has been forced to close and relocate due to the economic impacts of the COVID-19 pandemic.
The new Redwood City location has a fish market and restaurant. Customers can choose from over 40 different types of fresh local fish and purchase food such as fish and chips from the rolling restaurant. The restaurant on wheels is open from noon to 6 p.m., six days a week. Fresh fish can be purchased on weekends depending on weather conditions.
Owner Giuseppe Pennisi, whose family has a long tradition of local fishing and who started Pioneer Seafoods in 2000, said he was shocked to see so many people showing up at the new Redwood City location. Then again, Pennisi also said, "Whole Foods doesn't sell fish like this."
In response to its early popularity at its new location, the company asked the public for ideas on how to speed up the service. On the next delivery, there will be a new line for the whole fish, while the fillets will be sold from the trailer, Pennisi said.
"It will be a great place for anyone who wants to enjoy great outdoors, lots of parking lots, an amazing waterfront with kayak launch pads, ducks and geese everywhere," Pioneer Seafoods said on its page Facebook. "A floating dock to walk to the pioneer and easy and safe access to our boat. "
Weather had a fascinating discussion with Pennisi. Stay tuned for more on this new local foodie stopover.
Make sure to visit the Pioneer Seafoods website and follow their Facebook page.
Photo credit: Pioneer Seafoods Facebook page.