Taprobane Seafoods announces strategic diversification plans to consolidate its pioneering status – Press releases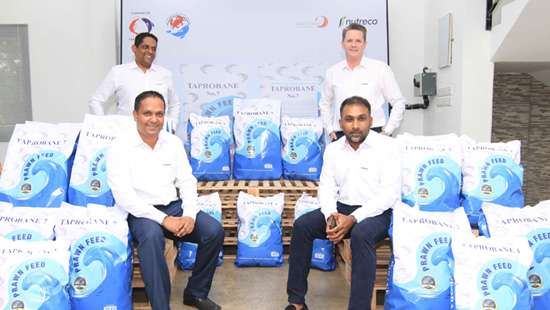 ---
Nathan Sivagananathan – Director Taprobane Seafoods, Dilan Fernando – Director Taprobane Seafoods, Timothy O'Reilly – Managing Director Taprobane Seafoods and Mahela Jayawardena – Director Taprobane Seafoods with the Taprobane Prawn Feed bags.
Sri Lanka's largest and most integrated seafood company, Taprobane Seafoods, is preparing to announce a host of new strategic initiatives. The company is introducing new shrimp services by leveraging its pioneering status as the pioneer of SPF Vannamei, a disease-free variety of shrimp that complies with the Government of Sri Lanka Act of 2021 to ensure that only shrimp from the disease – free broodstock could be reared in Sri Lanka. The company owns the only hatchery that brings in broodstock from Hawaii for breeding and was recently awarded a hatchery on the east coast by the government. The expansion of the business in shrimp farming will provide more employment opportunities in Sri Lanka, thus increasing export earnings to develop the national economy.
Adding value to the shrimp farmer, the company is launching Taprobane Aqua Services, a one-stop shop for all aquaculture products and services. The Chilaw building represents collaboration, innovation and acceleration, showcasing Taprobane's plan to drive a sustainable and environmentally friendly shrimp industry through controlled intensification. The benefits for the farmer will be to reduce middlemen and pay directly to farmers, thus ensuring good prices; working with government on policies, regulations and infrastructure (eg electrification, dredging canals and roads); help older generation farmers to use new technologies more quickly; change mentalities and integrate farmers into new productions and platforms; working with the government to change the lingering feeling that shrimp farming is bad; the protection of our environment and 100% transparency within our sector to guarantee the protection of human rights.
By further diversifying, Taprobane is launching Taprobane Feed, in collaboration with Skretting, a Norwegian company and world leader in aquaculture feed, which will condition the feed sold by Taprobane. "The Taprobane Group and its integrated approach play the leadership role Sri Lanka needs to seize the Vannamei shrimp farming opportunity in the right way. Vannamei shrimp farming is a global and competitive industry that requires technical capacity, a certain level of investment, serious traceability and sustainability commitments that Sri Lanka has all the potential to meet and become a major source of superior quality products. Skretting, the world leader in feed for aquaculture, is delighted to partner with the Taprobane group to set this level of requirement that Sri Lankan shrimp farmers will be proud of, " said Marc Le Poul, Managing Director of Nutreco Vietnam and Skretting Excellence Asia.
In another strategic approach, Taprobane has entered into a partnership with UTE (Caterpillar) to offer breeders equipment for hire or purchase for aquaculture. One of the main components of livestock costs is electricity and Taprobane's expansion of its shrimp farming business will be supported by a UTE vendor where farmers can rent or buy heavy machinery. , generators, etc., when renovating existing earthen shrimp ponds.
Commenting further, Timothy O'Reilly, Managing Director of Taprobane Seafoods, said: "As a pioneer and pioneer in aquaculture, Taprobane Seafoods' vision for its growth and expansion also encompasses how Sri Lanka can develop. this industry as a niche export segment that earns valuable foreign currency for the country. The series of initiatives we have taken as we move into 2022 reflect Taprobane's plan to build the future of the Sri Lankan shrimp industry while ensuring diversification and added value in our operations.
Anasuya Gunasena, Marketing Director of UTE-CAT, commented: "As a company with a history of 74 years, UTE provides complete solutions in a multitude of industries, the many parts of the company's operations are uniting in a single strong brand to allow its smooth progression forward. . We have established market leadership in many of the industries we serve. UTE has had a close relationship with CAT since the early days of the company. Over the years, we have also partnered with many other world famous brands and currently host an impressive portfolio of international market leaders.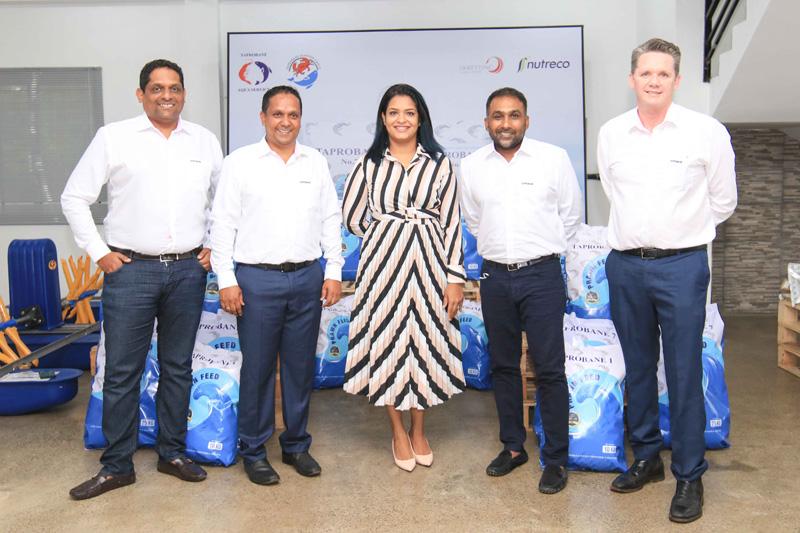 Nathan Sivagananathan – Director Taprobane Seafoods, Dilan Fernando – Director Taprobane Seafoods, Sathya Rathnayake – Director Taprobane Seafoods, Mahela Jayawardena – Director Taprobane Seafoods and Timothy O'Reilly, Managing Director Taprobane Seafoods.
About Taprobane Seafood
Founded in 2010, Taprobane Seafood has 15 processing plants, employing more than 2,000 direct employees in the Northwestern and Northern provinces. Its uniqueness is that all the employees who work in the processing plants in the North are women, from the security guard to the supervisors and managers, including the war widows who are the breadwinners. Taprobane Seafoods began its success story with the committed and visionary leadership of Timothy O'Reilly, Dilan Fernando and Sathya Rathnayake. Cheng Niruttinanon – Executive Chairman of Thai Union, also sits on the Board of Directors of Taprobane Seafoods. Thai Union is the world's largest seafood company and its subsidiary, Chicken of the Sea Frozen Foods, the largest importer of crab and shrimp in the US market. Taprobane has also been certified by the FSSC 22000 food safety standard and the HACCP risk management system.
Taprobane Seafoods's vision is to be the world leader in sustainable and socially responsible aquaculture, based on high quality standards, social responsibility, sustainability, integrity and success. The company produces premium seafood for iconic brands like Whole Foods USA, which requires adherence to strict quality and sourcing standards. Taprobane is also the leader and pioneer of pasteurized blue swimming crab and SPF Vannamei shrimp. Taprobane was recently awarded the prestigious 3 * status by Best Aquaculture Practices (BAP), the world's leading certification authority for aquaculture practices.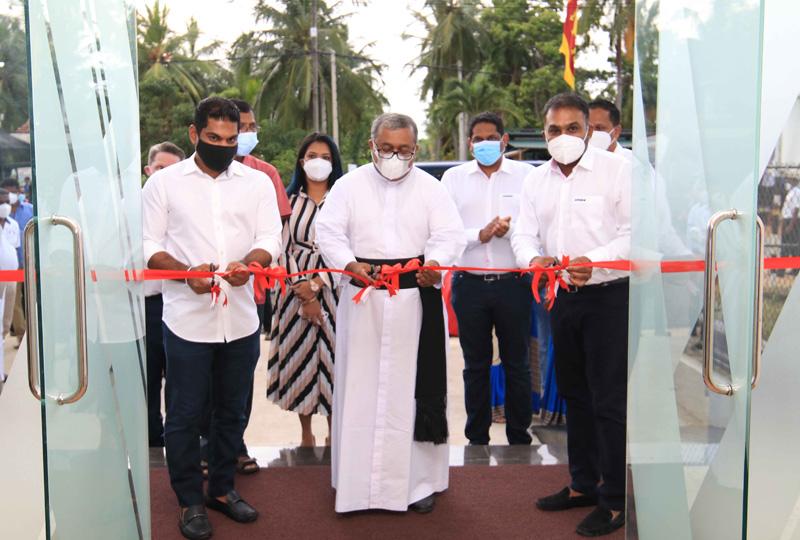 Hon. Kanchana Wijesekera – Minister of State for Ornamental Fish, Fish and Shrimp Farming, Fishing Port Development, Multi-Day Fishing Activities and Fish Exports, Reverend Father Nelson and Mahela Jayawardena – Director Taprobane Seafoods cutting the ribbon at the opening of Taprobane Aqua Service in Madampe.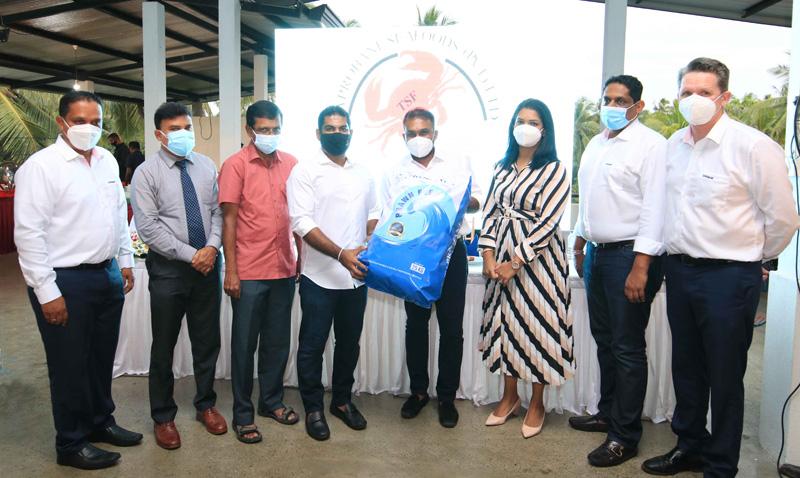 Dilan Fernando – Director Taprobane Seafoods, Jayantha Wijeratne – President, NAQDA, Jayantha Chandrasoma – Secretary of the Minister of State, Hon. Kanchana Wijesekera, Mahela Jayawardena – Director Taprobane Seafoods, Sathya Rathnayake – Director, Taprobane Seafoods, Nathan Sivagananathan – Director Taprobane Seafoods and Timothy O'Reilly – Director General Taprobane Seafoods handing the first bag of food to the Minister of State for Fish in ornament, Interior Fish and shrimp farming, development of the fishing port, multi-day fishing activities and fish exports.