Some of Cleveland's best vegan fare is hidden away at a West Cleveland dive bar.
Little Rose Tavern's Green Kitchen began in May as a Sunday pop-up. But after a massive kitchen renovation that added subway tiles, new shelving, and cooking equipment, the restaurant claimed permanent space inside the dive bar near West Park and extended its hours of work. 'open from Thursday to Sunday. In November, the restaurant will add an industrial party on Wednesdays and serve vegan ramen.
The menu, which emphasizes gourmet vegan fare, comes from Chef John Hagerty, who has worked in some of the city's best restaurants. He started his career with the Flying Fig before spending time with Reddstone and Lola, now deceased. He helped start kitchens for ABC Tavern and worked as a sous chef at Forage and as a chef at Bold Food & Drink.
His time with Forage and Bold and his love of punk rock, a scene that is popular for his vegan activism, was his first foray into the plant-based diet.
"I'm not a vegan now, but I was a 15-22 year old vegetarian," he says. "It was always in my head."
He was later acclaimed by plant eaters when he launched his Monday Vegan Specials at the Winchester Music Tavern. There, vegan dishes made up more than half of the menu, and even after he left, plates like buffalo cauliflower wings remain synonymous with eating and attending shows there.
"After I left Winchester, I was debating whether to do something on my own or quit the industry altogether – I was already enrolled in welding school," Hagerty explains. "When this opportunity presented itself with Little Rose, I really couldn't have asked for better."
Hagerty's approach to veganism is a little different from many other views around Cleveland. For one thing, plant-based foods make up the whole menu, not just a special section in the corner. Second, the menu doesn't claim to be healthy.
"Let's be honest. Some of this stuff is pretty boring," Hagerty explains. "So making it fun and accessible for people who are turning their noses to vegan food is a fun challenge for many chefs right now. really wow people's minds.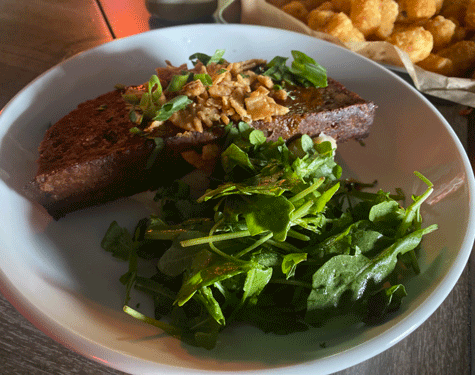 The Green Kitchen menu offers 12 permanent options and two to three specials per week. The wonder quickly begins with the ability to get Shaved Black Truffles on any dish for $ 10.
There are certainly healthy options out there, such as the House Salad ($ 6), which features dill ranch drizzled with cucumbers, tomatoes, and bits of bacon, a homemade smoked vegetable on chunks of bacon. Meanwhile, the special butternut squash bisque ($ 6) with ginger, seeds, and nuts was creamy, warming, and tasted like fall. But we had more fun with the monster tots ($ 8), which stack five bean chili, cashew cheese, spicy cream, and bakon over fried potatoes.
Meat eaters are often duped by the Hail Seitan Cleveland Cheesesteak ($ ​​13), Chicken Sammy ($ 13), often on special, and the Smash Burger ($ 13), which is drizzled with vegan cheese sauce between thin patties. Impossible spicy meat with house seasoning. Another frequent special, meatloaf ($ 14), a bold move for any vegan menu, is another staple that benefits from this approach. Indistinguishable to the naked eye, a piece of meat rests on a bed of mashed potatoes soaked in sauce and garnished with arugula.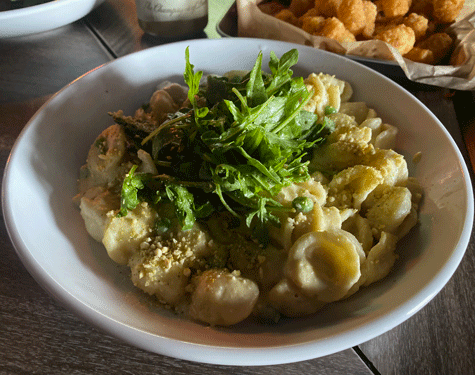 Cheating on meat eaters isn't Hagerty's only goal. In fact, he acknowledges that many religious vegans might not appreciate meatloaf. But no trick is needed to fall in love with the Alfredo ($ 13), which layers orecchiette noodles in a creamy and luxurious cashew cream sauce, speckled with peas and topped with arugula.
Fans of Hagerty's work in Winchester will recognize dishes like Mac 'n' Cheeze ($ 11) and Crispy Buffalo Cauliflower Wings ($ 8). Meanwhile, an ever-changing offering of salads and roasted vegetables explores a vast array of flavors and textures.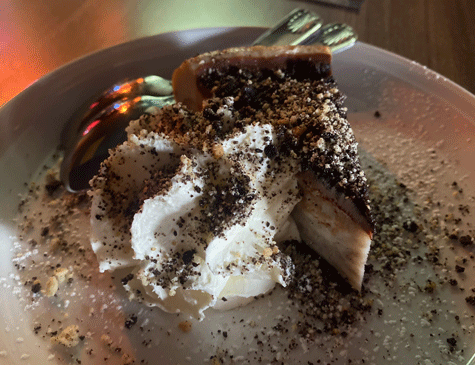 Before we wrap up, there are two more things you need to hang on to. The first is the famous Fire Claw, which looks like a sake bomb with White Claw, Fireball, and a high strength liquor float that is set on fire. The second is a slice of cheesesteak ($ ​​6), which should become a staple for any Cleveland vegan looking for an unrecognizable substitute for the decadent dessert.
If vegetarian restaurants have made you afraid to dive headfirst into vegan bites, the cozy wood and wallpaper decor of the Little Rose Tavern, a setting familiar to anyone who frequenters Cleveland's many dive bars, does just that. what Hagerty's food to do: He puts vegan food in more accessible packaging.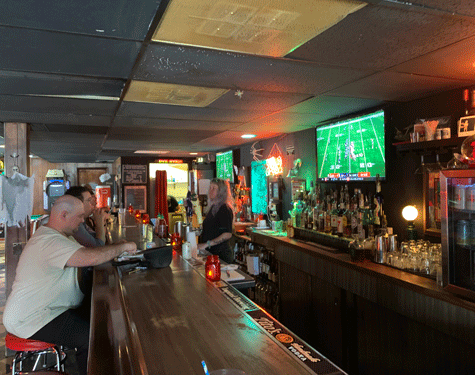 If you're still scared, Hagerty has some choice words for you.
"Stop being a baby and give it a try because you know everything doesn't have to be beef, you know, a carrot is delicious on its own," he says. "You don't miss those flavors anymore. We bring this richness, thanks to different oils, and we play with textures. So give it a try. "
When you go: 14206 Lorain Avenue, Cleveland, instagram.com/the_green_kitchen_cleveland, instagram.com/the_little_rose_tavern