Trident Seafoods and Linde Announce Commitment to SENA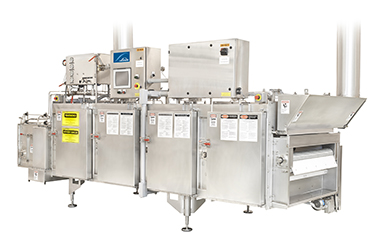 [ad_1]
Trident Seafoods and Linde both sent out announcements reiterating that the companies will be participating in Seafood Expo North America/Seafood Processing North America.
Both companies have sent information to customers announcing that each will be exhibiting at the expo, which runs from Sunday, March 13 through Tuesday, March 15, 2022, at the Boston Convention and Exhibition Center in Boston, Massachusetts.
Linde said it will showcase its cryogenic freezing and cooling applications, along with other equipment systems, at Seafood Processing North America. The company introduced its new CRYOLINE PB tunnel freezer, which the company says provides a smooth surface to quickly freeze "marinated, sauced or other hard-to-handle moist products."
The company added that it will also showcase the CRYOLINE UPF Flying Freezer, which is designed for "fast and efficient IQF production of shrimp, scallops, clams and other seafood products."
"Cryogenic freezing is an extremely effective method of preserving the quality of high-value seafood products," said Chris Johnson, Linde's director of business development. "This can give seafood manufacturers a significant point of difference in the quality of their frozen offerings, which is becoming increasingly important as consumer interest in premium food products grows. Consumers value convenience, but they don't want to compromise on quality. They want both.
Both products will be on display at booth #1465 at SPNA.
Trident Seafoods has announced that it will also participate in the exhibition, but that its booth – booth #805 at SENA – will be different from previous years.
The company said it had made an effort to "find a way forward" to attend the show while "maintaining our focus on the safety and comfort of our teams during this time." To that end, it will not have a full cooking and demonstration booth like in the past.
"We are preparing a small team of executives to attend the show and be present and available for customers to meet safely, both on and off the show," said Melody Conner, executive vice president of Sales and Marketing of Trident Seafoods. in one version. "At the same time, we will be implementing daily COVID protocols for our team that will keep them and our industry partners and customers safe."
Conner said the company is "looking forward" to supporting the event and the industry after the past few years.
"While 2022 may look different, we'll be there with anticipation and excitement," Conner said.
Expo organizer Diversified Communications announced on March 3 that it will no longer require attendees to wear masks to protect against the spread of COVID-19, after dropping the requirement that attendees show proof of vaccinations in February.
Photo courtesy of Linde
[ad_2]
Source link