Where to eat vegan food in Sydney now that Bodhi is closing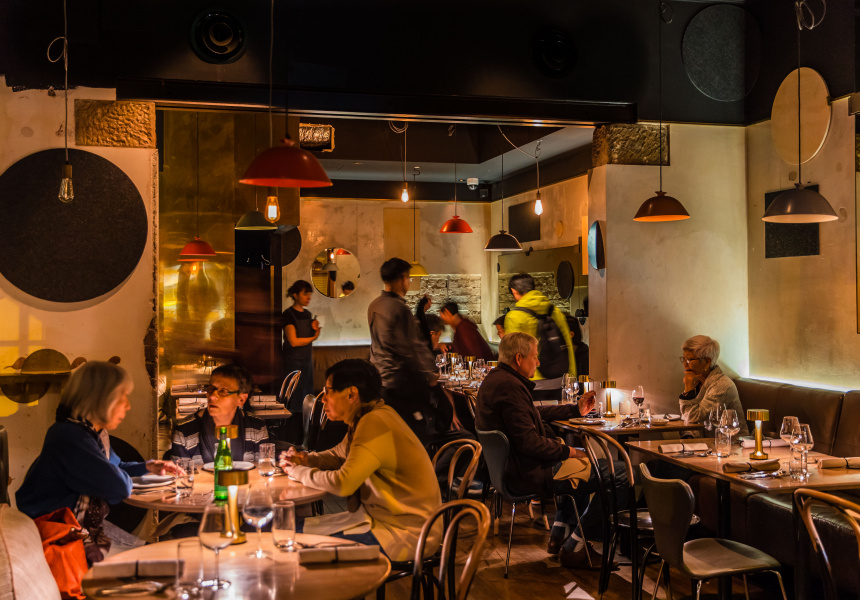 On August 7, Bodhi, known for its plant-based version of yum cha, will serve its latest faux peking duck pancakes, mushroom balls and sweet and sour "chicken". But, unlike when Bodhi opened in 1988, Sydney now has plenty of plant-based places for those following a vegan diet. There are plenty of places to drown your bodhi-is-closed sorrows. Here are a few to check out.
Yellow, Potts Point
Dining at Bodhi has always been an enjoyable experience – on sunny days, there are few better al fresco tables in Sydney than those beneath its Moreton Bay figs. Yellow in Potts Point, considered by many to be Sydney's first fine-dining vegan restaurant, offers an equally charming space. While Bodhi is bright and open, Yellow – housed in a former gallery – is dimly lit and evokes European bistros. The menu changes with the seasons; currently, it offers refined plant-based dishes like buckwheat pancakes with Brussels sprouts; Jerusalem artichokes with hazelnuts and shiitake mushrooms; and, for dessert, a yuzu parfait. And because Yellow is part of the team behind Bentley and Monopole – both known for their incredible wines – you can expect exceptional wine options to return with your tasting menu.
Alibi, Woolloomooloo
Bodhi dumplings have always been a fan favorite. Not too far away, however, you'll find a silky, spicy dumpling stuffed with fable (fake meat made from shiitake mushrooms) and served in a pool of Szechuan chili oil at the Ovolo Hotels' all-vegetable restaurant, Alibi. But the vegan fun doesn't stop at the dumpling – you'll also find grilled okra with mushroom XO sauce, a 'cheese' burger and smoked eggplant with romesco sauce.
Bad Hombres, Surry Hills
Bad Hombres did for vegan tacos what Bodhi did with vegan yum cha. While it started serving meat, it quickly switched to a plant-based menu and has been a hit ever since. Soft corn tortillas are packed with your choice of delicious toppings – think chipotle potato with salsa verde, miso eggplant with pineapple-habanero and miso-caramel salsa, and a faux fish number with cilantro mayonnaise and salsa with mango. The spice-laden cauliflower with cashew cream is also a must, as is his vegan version of Tiktok's favorite birria. (And a spicy Marg never goes astray.)
Little Turtle, Enmore
Over the years, Heaven Leigh – current owner of Bodhi and daughter of founder Lee-Leng Whong – has expanded Bodhi's menu and is responsible for adding a range of curries. Little Turtle's curries in Enmore might be Thai, but they're just as delicious. Think plant-based Thai standards (which often contain ingredients such as fish sauce and shrimp paste), such as green curry, panang curry with grilled eggplant, and hor mok (a fish curry cooked in northern Thai steam, made here with tofu). You'll also find fantastic vegan versions of other popular Thai dishes, including pad see ew, tom yum and corn som tum (green papaya salad).
Cafe Khamsa, Erskineville
Vegans and non-vegans alike flock to Bodhi — and so does Khamsa Cafe, which serves vegan versions of Palestinian dishes right on King Street's vegan mile. Owner Sarah Shaweesh says meat is often only added to many Palestinian dishes towards the end of the cooking process, so vegetableizing them isn't too difficult. Pop into the bright cafe for crunchy falafels filled with green herbs (these are great dipped in garlic and tahini cream or piled on a wrap with herbs and pickles); a rainbow of dips, including hummus, baba ganoush, ful medames (bean dip) and muhammara (roasted red pepper dip); and a vegan knafeh (a sweet, shredded filo pastry usually made with cheese). Like Bodhi, it's unlike anything else in Sydney – in fact, it's the only Palestinian restaurant in Sydney.
Other vegan restaurants to try in Sydney:
Comeco, Newtown
Funky Pies, Bondi Beach
Gigi's Pizzeria, Newtown
Golden Lotus Vegan, Newtown
Soul Burger, various locations
Yulli, Surry Hills