Wilmington, NC gets its first vegan food truck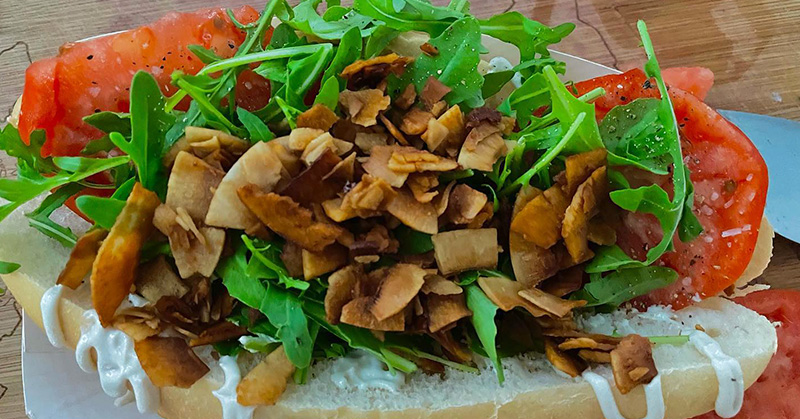 If you live in the Wilmington area, you've probably been delighted with the surge in vegan restaurants (and vegan options at traditional restaurants) over the past couple of years. And now Wilmington, North Carolina is getting their first vegan food truck: The Hardcore Hippie!
Vegan Options in Wilmington, NC
Hardcore Hippie is a unique concept. The all-plant menu is currently available once a week at the popular local food truck NachoFalt. Keith Gissubel, founder of The Hardcore Hippie, has tried his vegan recipes at NachoFalt for the past two months, and they've been so popular that the owners of NachoFalt have decided to one day give The Hardcore Hippie full use of the truck. week to bring more vegan options to Wilmington!
For those worried about cross-contamination, don't worry, The Hardcore Hippie uses completely separate knives, cutting boards, and containers for their vegan food. The entire food truck also undergoes a thorough top-to-bottom clean-up before its transformation from NachoFalt to The Hardcore Hippie.
Vegan food under $ 10
Some items that can be found at Hardcore Hippie include a '2na' chickpea salad, BLT coconut bacon sandwiches, and sweet potato tacos drizzled with cashew cheese. No fake meat is used in the truck – all menu items are made from whole foods and plant-based ingredients.
Everything at Hardcore Hippie can be ordered for under $ 10 or so, as Gissubel wants to dispel the myth that plant-based, healthy eating must be expensive by providing affordable vegan options to the community of Wilmington.
After fully selling out their first event at Hi Wire Brewing on September 1, The Hardcore Hippie will be back in the local brewery three weekends in October. You can catch them there on October 10, 23 and 30. On October 16, they will be at New Riverfront Park for the Vegetable festival from 11 a.m. to 5 p.m.
Give love to The Hardcore Hippie on Instagram at @hardcorehippiefood and check where they will stop next!